MULTI-CHANNEL AUDIENCE BUILDING
Comprehensive development of multiple content platforms to grow local, regional and international audiences.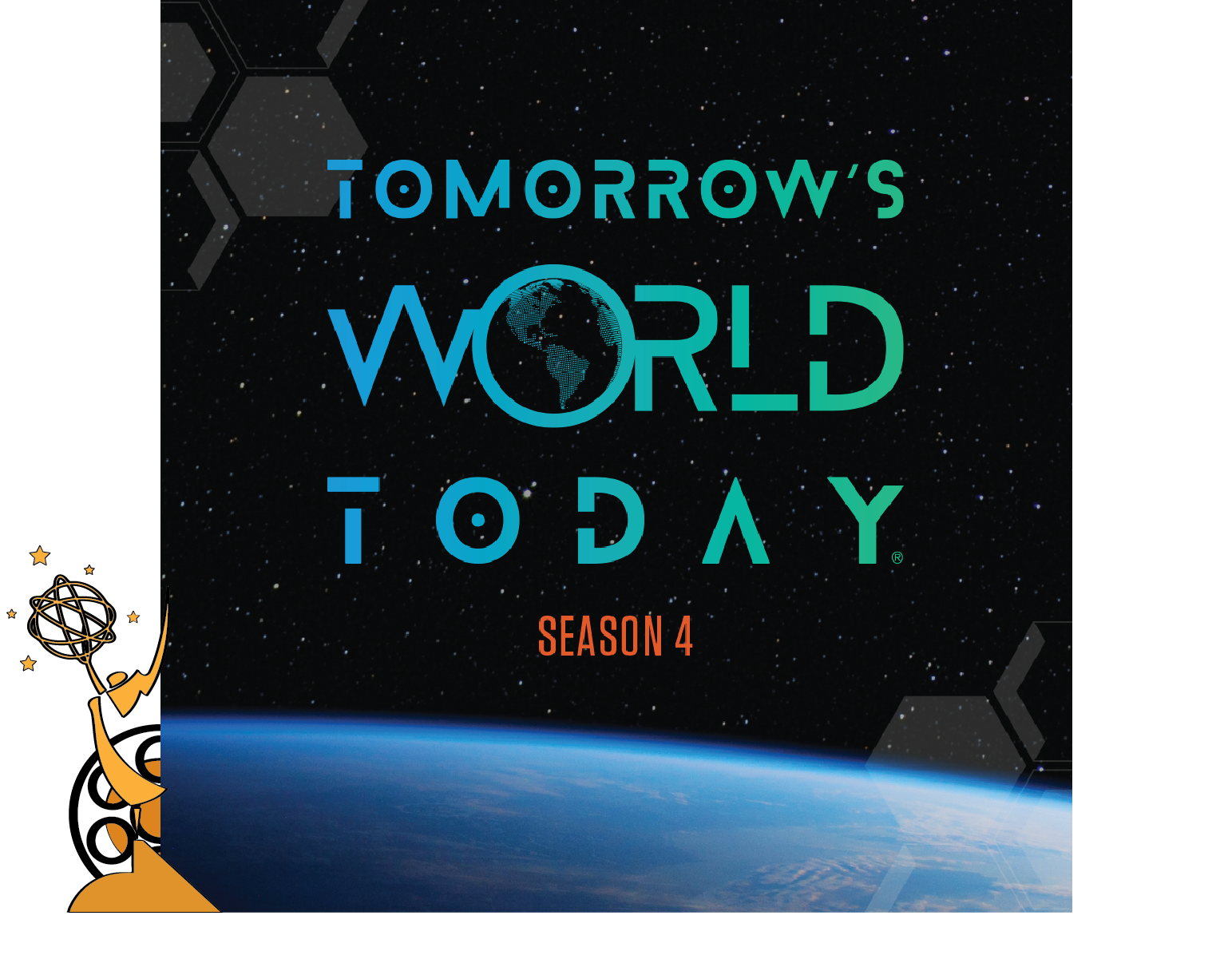 FILM & TV: TOMORROW'S WORLD TODAY
Flying Cork manages a wide range of media services for the TV show called Tomorrow's World Today that is aired on the Science Channel and Discovery Channel. The show serves as a platform to showcase new technology and innovation.
2019 Emmy Nominated

Airs on Discovery's Science Channel and Discovery Channel

Reruns air on SciGo, DiscoveryGo, and Youtube

Season 4 in production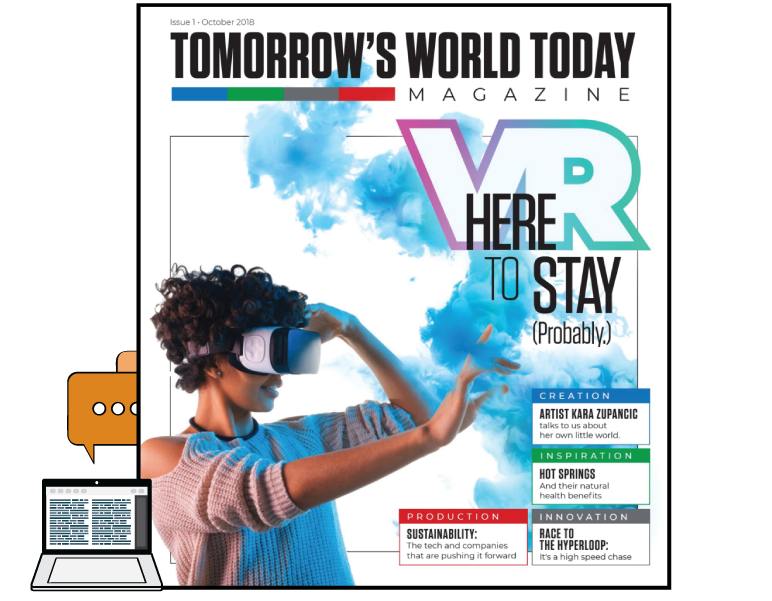 DIGITAL PUBLICATION: TOMORROW'S WORLD TODAY MAGAZINE
Our expert publishing and content team created a visually stunning digital publication that serves as a companion piece to the television program, and provides additional value to our readers.
Tomorrow's World Today Magazine features stories about sustainability, innovation, industry leaders, new technology, space and beyond, creativity, how things are made and much more.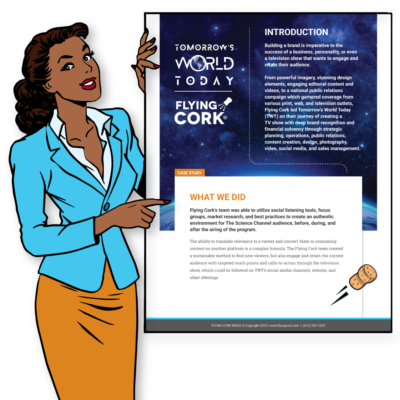 DOWNLOAD OUR MEDIA SERVICES WHITEPAPER
Learn about how we provided an Emmy-nominated television program with a 360 degree audience building solution that built brand, gained viewers, and  cultivated strategic partnerships.
LEARN MORE ABOUT MEDIA SERVICES
We combine our proprietary marketing solutions with creative services, public relations and strategic planning to build contextual value, market relevance, consumer growth and brand loyalty.
A deep dive into our client's business model, market trends, goals and current trajectory in relation to how the company wants to move forward with new strategies. We evaluate resources and assets and determine timelines, execution, project management and reporting structures.
Flying Cork provides a full spectrum of creative services that assist our clients in creating collateral that resonates with their audiences and increase brand relevance, voice and overall market impact. Working with our talented design, content and visual department inspires confidence in knowing that your company's best is being shown to the world.
At the core of audience and brand building sits social media management. The understanding of how and why to promote content and messaging at scale vastly impacts our client's ability to reach emerging audiences and drastically increase brand relevance and audience retention.
Flying Cork uses digital and traditional marketing strategies to provide maximum impact for client programs and initiatives. The innovative technology we use in preference center architecture allows customers to stay fully engaged with content they want to read. Traditional marketing complements our dynamic deployments and allows us to target a wide variety of consumption patterns and create multiple distribution outlets with maximized ad spend. The seamless marriage of these two techniques allows our clients to benefit from the polarity of multiple market segments and behaviors.
The world lives on content. It's how we communicate, trust and make decisions. Content plays a massive role in the type of brand a consumer either engages with or brushes off. Our ability to create content that is not only dynamic, but relevant to the brand, and more importantly the consumer, is a strength we're proud to promote. The Flying Cork team creates content for web video, streaming + broadcast television, print + digital publications and all audio platforms.
Public Relations is a critical aspect to a company's ability to navigate markets and remain leaders in their industry in the private and public eye. Our expert team provides comprehensive and proven strategies for brand positioning, strategic partnerships, media relations and event management.