Everyone loves a good trilogy, right? Star Wars, Lord of the Rings, Back to the Future – you get the point. In honor of those great trilogies, Flying Cork is honoring National Women's History Month (March) for a third month. This is the last and final post for the celebration, which we are now very sad to be concluding, but don't worry it'll be around again next year.
Our final employee is our intern-turning-fulltime-Marketing-Coordinator Sydney. Sydney is from Millersburg, PA with a (freshly earned) degree in Sports, Arts and Entertainment Management from Point Park University.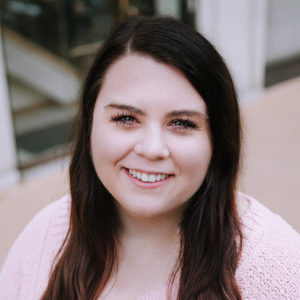 Q: What is the most valuable part of your day? 
A: The late morning because I'm not a morning person. Once I'm awake for an hour or two, that is when I'm the most productive.
Q: How have you developed professionally since you started working with Flying Cork? 
A: I've been able to learn an abundance of information and have been able to tackle new projects that have transformed into the new skills that I now have.
Q: Bagels or Donuts? Why? 
A: Bagels 100%. Specifically Brueggers' cinnamon sugar bagel with strawberry cream cheese!
Q: If Hollywood was making a movie about your life, what would the title be, and what actress would you pick to play you? 
A: Going With the Flow starring Jennifer Lawrence.
Q: What advice would you give yourself a year ago? 
A: Be confident in your work and know that things will eventually fall into place.
Q: One thing no one knows about you, but you're going to tell us anyway? 
A: I've traveled to 42 of the 50 states, and have been on two cross-country road trips.
Q: You're trapped in a train with 3 people for one month, who do you pick? 
A: My mom, my boyfriend, and Lady Gaga.
Q: What has been one of the best moments of your life, so far? 
A: One of the best moments of my life has been moving to college. The feeling of being in a completely different atmosphere and living in the city was a whole new experience for me. Pittsburgh has given me so many opportunities that I am thankful for every day.
Q: What female professional has made the most impact on your career and why? 
A: Felicia McKinney without a doubt. She hired me on for my first internship position with Point Park's enrollment marketing team my sophomore year of college. She has always supported me and has always given me the best advice and guidance when I've needed it. I would not be where I am today without her!
https://flyingcork.com/wp-content/uploads/2019/05/Sydney.jpg
750
750
fcm_admin
https://flyingcork.com/wp-content/uploads/2019/05/flying-cork-logo.svg
fcm_admin
2019-05-05 14:11:26
2019-04-30 14:23:17
Women's History Month: Get to know Sydney